Junior Member
Join Date: Jun 2018
Location: Colorado
Posts: 17
Puig windscreen causes loud wind blast - any fixes?
---
When I first got my G310R, I installed a Puig Naked New Generation windscreen specific for the G310R.
https://www.revzilla.com/motorcycle/...310r-2016-2018
It's a great looking windscreen. I got it to help relieve some of the wind blast on my upper body. It does help in that regard a bit, which is nice on chillier days, but on the flip side, it seems to direct the air right into my helmet, so anytime I'm going above about 40 mph or so, it's loud as crap. Uncomfortably so, it's like a constant explosion of sound. Ironically, I get less noise by standing up so the windscreen directs air right into my chest.
I normally just grin and bear it with earplugs, which does help, but it's annoying to keep track of earplugs all the time - the worst is when you've helmeted up, gloved up, and started the bike, only to realize you forgot the earplugs.
I tried a Puig clip on windscreen deflector, but it didn't actually seem to make any tangible difference.
https://www.revzilla.com/motorcycle/...reen-deflector
Anyone have advice on this particular situation? I realize wind is always going to be a problem, especially with a naked bike, but I'm all about creature comforts where possible, which is why my other bike is a Triumph Tiger 800 - with that gigantic windscreen, I'm nicely tucked into calm air and can just relax. I'm about 5'7", so if any taller riders have figured out a solution, it'd probably work for me!
Member
Join Date: Aug 2018
Posts: 80
Ahh, like a pair of Jimmy Choo stilettos that screen may look great Rocketman but by the end of the day its killing you to look that good.
You identified your solution: clean air flow. You find it when you stand up and the wind blast noise disappears.
I'd suggest this a starting point: temporarily remove the screen. Ride it like that. Buy a handful of Moldex or similar disposable foam earplugs (ignore anyone who suggests custom made musician ones or something. Not just yet.) When you take the ear plugs out put them in your right front jacket pocket. Only there. No, not the left. The right pocket every single time. In the pocket next to your bike key, Ok?
Key, ear plugs, helmet (don't forget the strap - we've all done that), gloves, ride off. Every time. Its not onerous to do it the same way. Now when you do - and you will - ride off without the ear plugs you pull over and stop. Make your buddies stop too. Take it all off and put the plugs in this time and after just a few of those occasions you will never forget again.
As an aside, look in your mirrors when you all pull over. Look sheepishly if you must tapping yourself on the helmet as the universal "I forgot my earplugs" gesture, but have a look back through the line and I bet one of your mates is fossicking around in his jeans or left pocket or something to find where he put those stupid earplugs last time he stopped.
Now, I realise that you are from Colorado so it can get cold, real cold. While running your clean air experiment try any or all of these tips and tricks: put a newspaper down the front of your jacket; buy a better jacket (works on all bikes, not just this one); heated vest or some such liner; put on an over jacket; get one of those thick fleece neck tube things (as a bonus they cut the airflow around the lower edge of the helmet).
Once you are convinced that it is clean air you may opt to continue real naked, naked. Or you might want to go back to the endless screen trials. Your beautiful Jimmy Choo Puig screen is crap - for you.You told us that up above. Drill holes in it. You have little to lose, just do it carefully, systematically.
Like those multi-million dollar MotoGp prototypes, sometime the screen is just, well, crap. Drill it like they do. In doing so you are after a magic carpet of slower moving air to come up from behind the screen and fill the void and equalise the airpressure that is contributing to the turbulence currently and luckily absent from the Tiger 800 cockpit.
I once did a fly and ride when I bought a BMW K1200R 800km from my place. I rode away on the bike it had a screen something like this: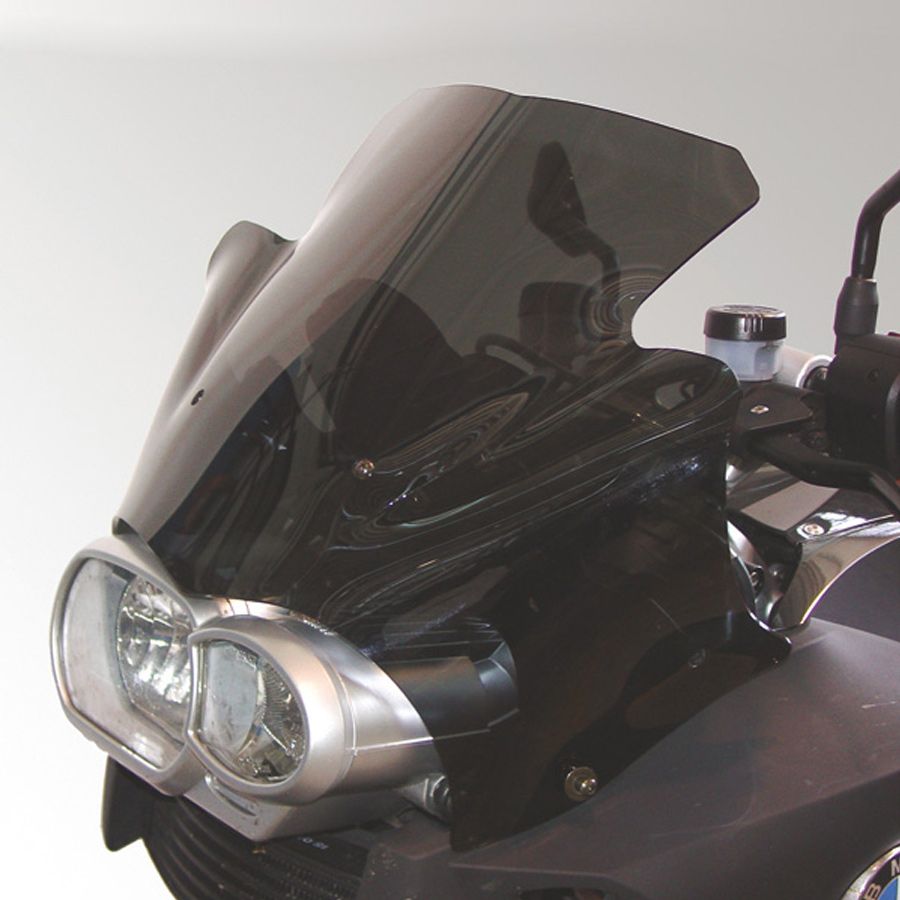 I lasted about 10 minutes and had to take it off and tie it onto the back of the bike.
It was so much better.
Later I added a little screen just to keep the bugs off the back of the clocks: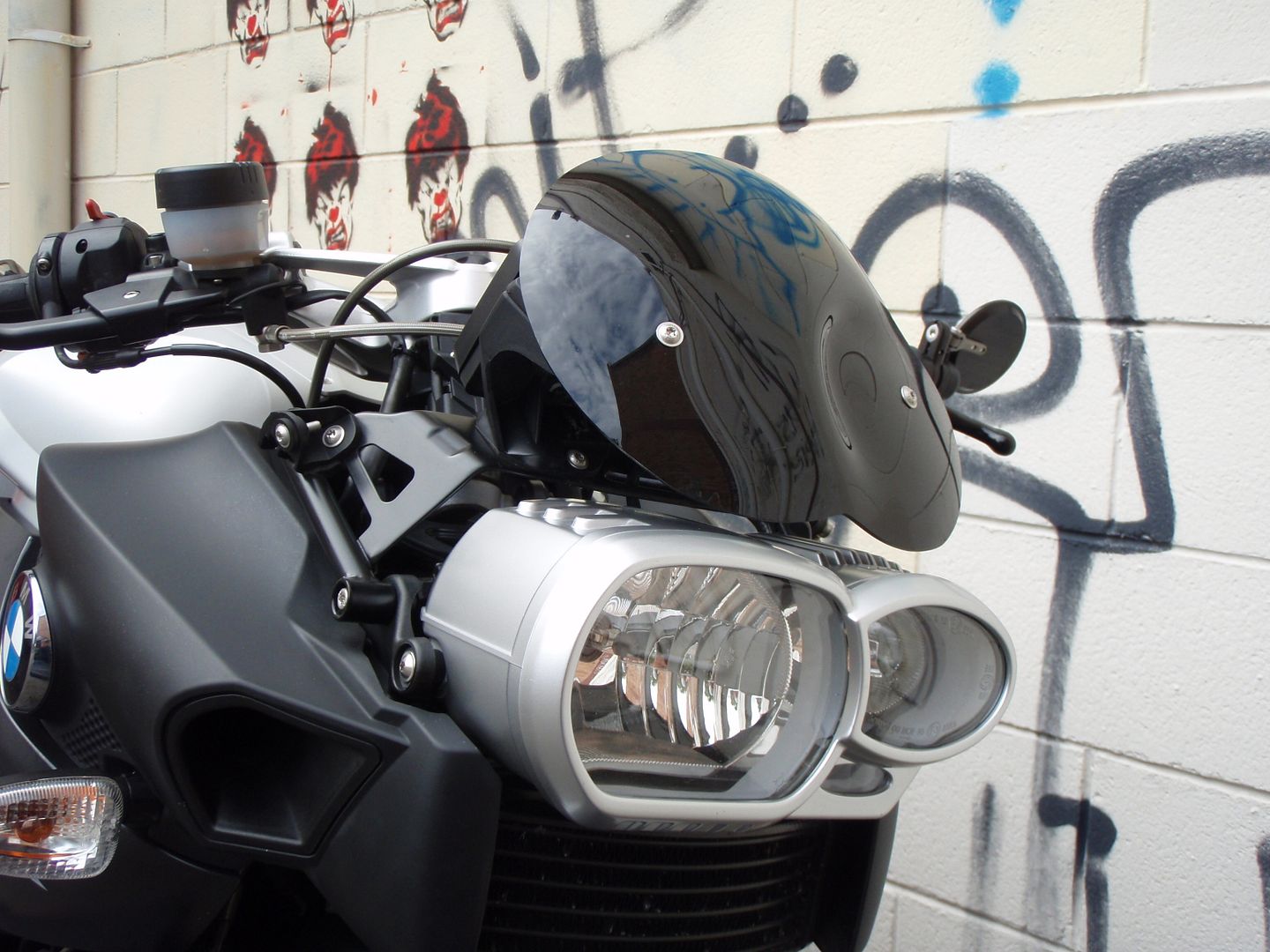 Posting Rules

You may not post new threads

You may not post replies

You may not post attachments

You may not edit your posts

---

HTML code is Off

---